Book a paragliding flight
Montclar-le-lac
Contemplative and serene paragliding experience for an unforgettable first flight.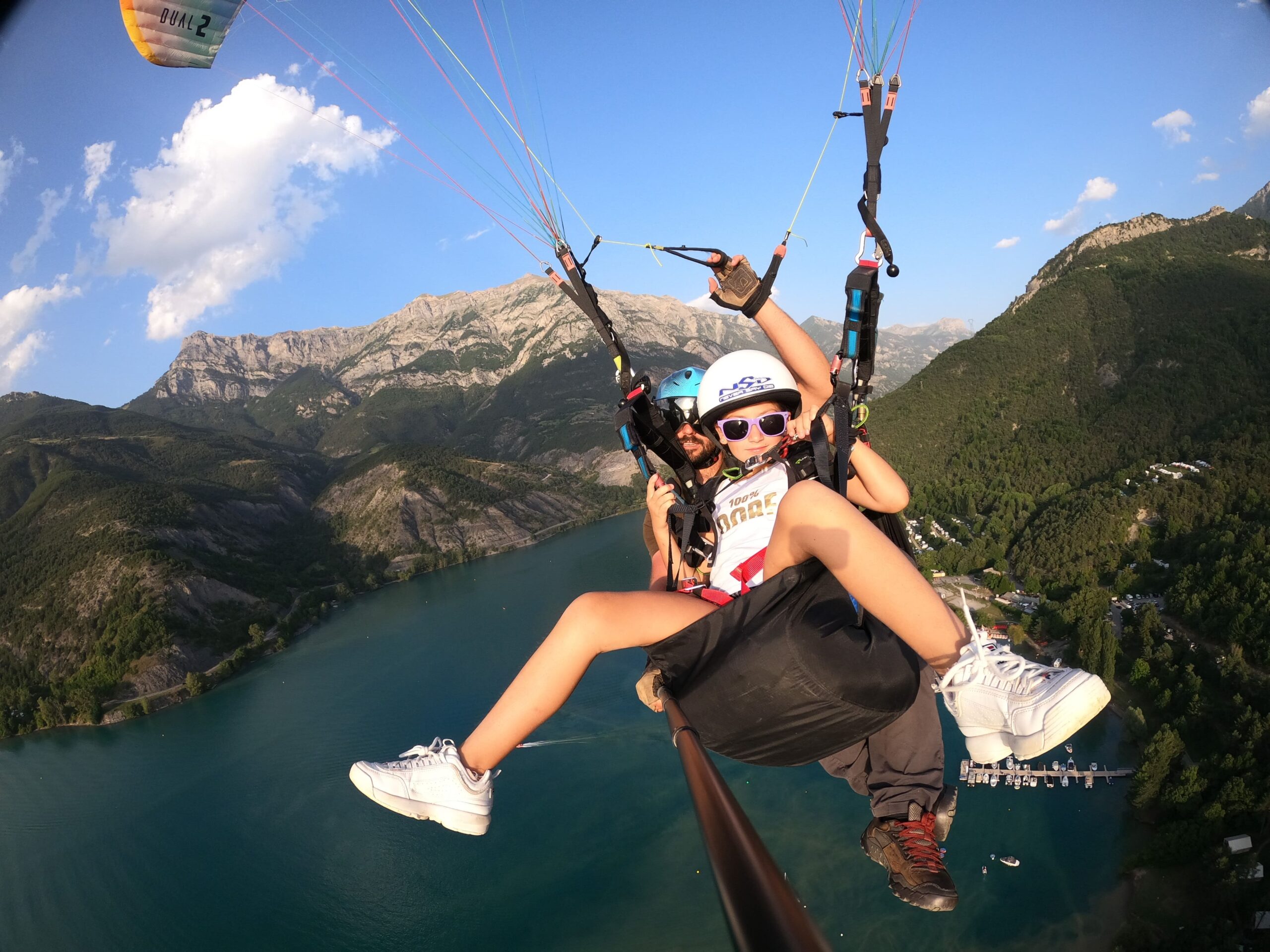 Flight information Montclar-le-lac
This flight takes place in the morning.

Flight time: around 20 minutes

Maximum passenger weight: 80 Kg

Gliding flight, 1200m of negative elevation.

Take off: Montclar at 2000m

Landing: shores of the Serre-Ponçon lake

Flight period: May to September

Go to Saint Jean Montclar
The Montclar-le-Lac flight is a truly enchanting journey, offering a variety of sumptuous landscapes, ranging from mountain ranges as far as the eye can see to the majestic lake. This experience is a true delight for lovers of beautiful landscapes, lasting approximately 20 minutes.
This morning flight starts at an altitude of 2000 meters, after a chairlift ride to the heights of the Blanche Valley. It takes you first to Saint-Vincent-les-Forts, a perched village guarding the entrance to the Ubaye valley, flying over a magnificent larch forest. Then, you can enjoy a breathtaking view of the turquoise waters of the Serre-Ponçon lake before landing on the banks of the lake, 1,200 meters downstream from the starting point. A driver will then take you back to your vehicle.
This paragliding flight offers a unique experience to discover the landscapes of the region in a different and unforgettable way.
Pants or shorts depending on temperature

Long-sleeved or fleece t-shirt depending on the temperature
Saint Jean Montclar for the Montclar-le-lac flight.

We give you an appointment at the start of the Belvédère chairlift at the front of the slope of the Montclar 2 Vallées resort.
3 Flight Options to personalize your experience.
Immortalize your experience, your pilot will produce a report of twenty photos and one or two videos of your flight. Available directly after the flight on SD card.

Price: 25 €
Become an actor of your flight! Your instructor accompanies you in taking control of the paraglider, and for a few minutes, you take control! During this phase, your instructor explains the how and why of paragliding flight.

Price: 15 €
Explode your adrenaline meter! The paraglider can become a very powerful feeling machine. Your instructor accompanies you in this search for sensations by offering you two acrobatic "runs" adapted to your desires.

Price: 25 €
Available for all flights, booking on site.
*The services of paragliding flights and photo reports are marketed by: "les Ailes du Lac" on behalf of independent instructors who are members of the local union of paragliding instructors in Ubaye Serre-Ponçon.