Book a paragliding flight
The paragliding site of Saint Vincent-les-forts is exceptional, a few steps at walking speed and the world of birds awaits you! The activity is accessible from 3 years old.
Reservation on line or by telephone. Availability from 04/01/2023 to 10/15/2023.
Online purchase: Full refund in case of bad weather
Take flight, paragliding is an activity accessible to all!
Do you want to fly a paraglider? The Serre-Ponçon lake in the Hautes Alpes is the ideal place for your first flight. We fly every day as long as the weather permits. Make an appointment through the online sale above (we will refund your purchase if the flight does not take place for weather/aerology reasons).
You can also make an appointment by phone and pay on site on D-Day. Once your appointment is confirmed on the weather plan (we call you the day before the flight only in case of bad weather. No call = confirmed flight) you can go there on D-Day. Come with about twenty minutes in advance for the formalities.
It is possible to use the gift vouchers either on site after having made a reservation by telephone, or online to pay for a reservation.
A question… We are available to answer you: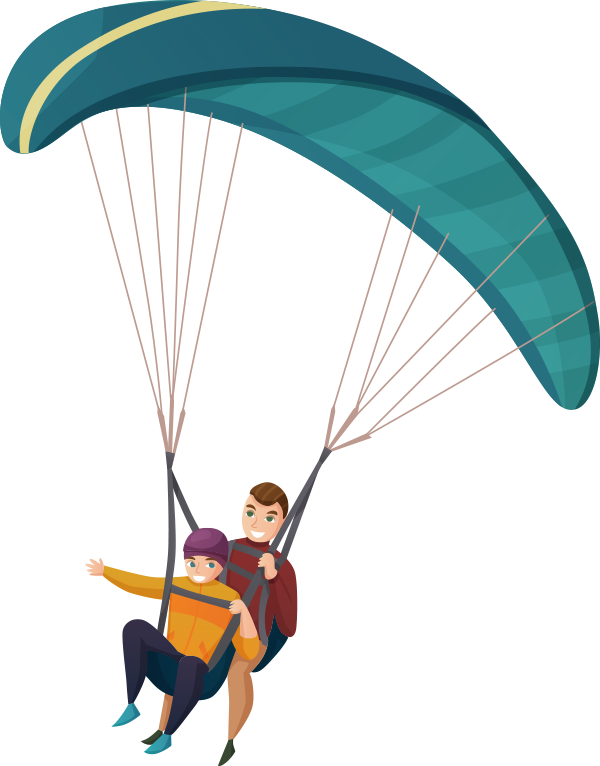 Frequently Asked Questions
The site of Saint Vincent les Forts has an exceptional aerological configuration allowing us to offer you long flights. We take off in a few steps, once in the air, we use updrafts to return to land next to the take-off area once the flight time has been completed.
For 20 minutes flights or less: Shorts or pants, long sleeves recommended, closed shoes, sunglasses.
For 45 minutes flights or more: Trousers recommended, long sleeves, windbreaker recommended, closed shoes, sunglasses.
The flight options are optional services allowing a personalization of the flight.
For example, if you are looking for thrills on your scenic flight, you can opt for an aerobatic option. You will then have to pay the supplement corresponding to the options chosen.
You can combine the type of flight and the options as you wish.
All the conditions and explanations will be given to you on site before take-off.
The flight options can only be booked on site because their feasibility will be subject to the practical conditions of D-Day.
Flights from Saint Vincent les Forts take place exclusively in the afternoon from 1 p.m. until the evening (timetables vary according to the season). Our structure is open from April 15 to October 15. We are present daily (from 1 pm) in July/August. In May, June, September, October we are available by appointment.
Vertigo does not exist in paragliding. Incredible but true, when your feet leave the ground your feeling of vertigo disappears. In any case, you will be able to communicate very easily with your instructor during the flight and he will be able to adapt to your wishes.
Yes, thanks to adapted equipment. Subject to favorable air conditions, we offer flights to children with a minimum weight of 15 KG.
Yes Our team offers flights for people weighing up to 100KG.
No You just need to be motivated!
No, there are no strict contraindications. The possibility of flight, depending on your state of health, will be assessed by the instructor after discussion.
There is a landing field by the lake, from where a vehicle from Ailes du Lac will pick us up to take us back to the reception chalet. (Maximum return time: approximately 40 minutes)
It sometimes happens that the conditions no longer allow a safe take-off, in this case we stop take-offs and observe the evolution of the conditions. A committee of pilots makes the decision whether or not to postpone the flights if necessary. Concerning the pilots already in the air, they will shorten their flights and come to land on our official landings.
Two possibilities: – the aerological conditions do not or no longer allow you to stay in the air in order to ensure a quality service. – the aerological conditions do not or no longer allow safe flying.
Our team keeps you informed of developments on a regular basis.