Book a panoramic paragliding flight
An ideal paragliding baptism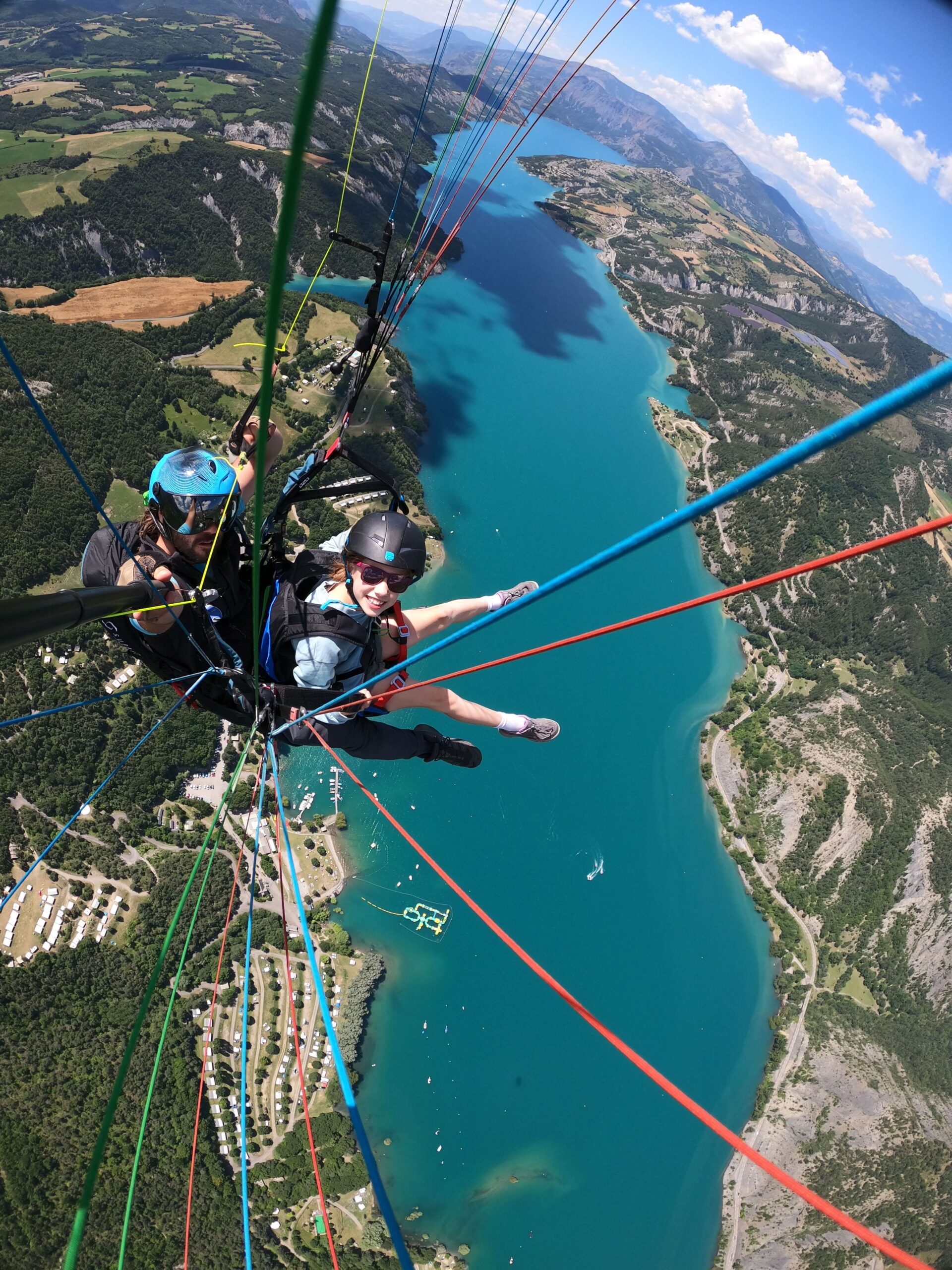 Duration: 20 minutes minimum in ascent

Ideal for first flight experience

Take off and landing in St Vincent.

Maximum passenger weight: 100 Kg

This flight takes place in the afternoon from 2 p.m.

Period of activity: from April to October 15

Go to Saint Vincent-les-Forts
Discover the joys of paragliding with our best-seller, the panoramic flight! You will fly above the charming village of Saint Vincent les Forts, accompanied by an experienced pilot who will know how to take advantage of the air currents to offer you an unforgettable experience. If the weather conditions allow it, you can even gain altitude and admire a breathtaking panorama of the Serre-Ponçon lake, the mountains of Dormillouse and Grand Morgon, as well as the splendid landscapes of the Hautes Alpes and Haute-Provence. Join us for an exceptional paragliding flight!
Pants or shorts depending on temperature

Long-sleeved or fleece t-shirt depending on the temperature
Saint Vincent-les-forts Initiation, Panoramic, Stroll and Prestige flights. Saint Jean Montclar for the Montclar-le-lac flight.

Our reception chalet is located 50 m from the main car park at the entrance to the village of Saint Vincent-les-forts.
3 Flight Options to personalize your experience.
Immortalize your experience, your pilot will produce a report of twenty photos and one or two videos of your flight. Available directly after the flight on SD card.

Price: 25 €
Become an actor of your flight! Your instructor accompanies you in taking control of the paraglider, and for a few minutes, you take control! During this phase, your instructor explains the how and why of paragliding flight.

Price: 15 €
Explode your adrenaline meter! The paraglider can become a very powerful feeling machine. Your instructor accompanies you in this search for sensations by offering you two acrobatic "runs" adapted to your desires.

Price: 25 €
Available for all flights, booking on site.
*The services of paragliding flights and photo reports are marketed by: "les Ailes du Lac" on behalf of independent instructors who are members of the local union of paragliding instructors in Ubaye Serre-Ponçon.